quixotic axolotl
by mouseninja
user profile | dashboard | imagewall | mouseninja maps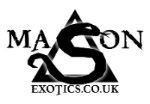 Axolotl

I like my axolotl
I keep her in a bottle
And if I'm feeing cross or mad
Or down or hurt or bad
I pull the cork and let her out
With fiery roar and shout
She flashes sparks and bellows loud
And throws her weight about
And when the monster's scared
my friends made them hide upstairs
I catch the raging, stamping beast…and put her right back there.
Axolotl in a bottle, I really like you such a lotl.

Source: Whitehouse, E & Pudney, W, A Volcano in my Tummy, The Peace Foundation, Auckland 2002


Search this moblog
Recent visitors
Friends
More...
rss feed
the axolotl eggs are developing well :)

gills are starting to form, and when you watch them, you can see them jump occasionally! they're twitching about as they grow...

they're due to hatch on Sunday.. :)
20th Feb 2007, 13:22
comments (15)
these are golden albino ones, and were laid on the same day as the dark ones
:)

but came from a different place...
17th Feb 2007, 13:02
comments (0)
been sent these axolotl eggs to raise :)

this will be fun... :D

should have some golden albino ones on the way too ...
16th Feb 2007, 11:33
comments (8)
mason's sister went to New York with her mum for her 18th bday...

and she brought us back Hersheys :)

Harri's great :D
16th Feb 2007, 11:32
comments (3)
oysters and steak and chips.

my first oysters, and my first steak...

~ for as long as i can remember, i haven't eaten red meat...
15th Feb 2007, 12:34
comments (4)
12th Feb 2007, 23:25
comments (6)
the grey patchy one will be staying with us... she's a girl :)
the brown ones are boys...
and they are going to a new home :)