Don't Be Influenced By Us!
by monkey finger
user profile | dashboard | imagewall | monkey finger maps
GO TO 10

a nice random image to get you started:




i now have a FLICKR page too!


"why would a reviewer make the point of saying someone's *not* a genius? do you especially think i'm *not* a genius? you didn't even have to think about it, did you?"







"monkeys are superior to men in this: when a monkey looks into a mirror, he sees a monkey."








"i am secretly afraid of animals.... i think it is because of the usness in their eyes, with the underlying not-usness which belies it, and is so tragic a reminder of the lost age when we human beings branched off and left them: left them to eternal inarticulateness and slavery. why? their eyes seem to ask us."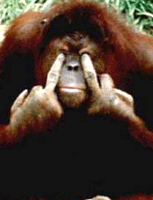 "we've all heard that a million monkeys banging on a million typewriters will eventually reproduce the entire works of shakespeare. thanks to the internet, we now know this is not true..."








african monkey proverb: "the day the monkey is destined to die, all the trees get slippery."








"i'll buy a bunch of monkeys, dress them up, and make them re-enact the civil war"







_


i told a funny joke once...
Search this moblog
Recent visitors
Friends
More...
rss feed
tom got the jammiest donut (doughnut?) i've ever ever seen.check out the jam!!!

i'm glad people like 'em. here are some more...
20th Mar 2007, 11:36
comments (17)
hello friendly mobloggers!i know i've been away for a while, but i
do keep my eye on you :)

i've been very busy at work, and they're still banning moblog, but it'll all change soon!

to keep myself entertained, i have taken to drawing little pictures on
paint, and these are they. please don't ask me to
explain...



MONKEYFINGER WILL RETURN....
20th Mar 2007, 11:13
comments (15)

i went for a walk in leigh woods on sunday, and these are the pretty
pictures that came from it.


hmmmm. apparently, i took these pictures on the way home from a pictionary
marathon on friday. i was quite drunk, and i have absolutely no
recollection of taking any of them.except perhaps the cone
picture. i seem to remember it was quite difficult getting my hand to stay
still.

please to meet tinker the gorilla, the newest addition to my desktop
menagerie.- the gorilla himself
- tinker in mexico!
- tinker chills in the trees
- and in the windowbox!
- he's not afraid of snow either...
- he can thaw ice using the sheer power of his will...

my house mate sally cast her face last night.
- the beginning...
- the rubber cast, before plaster...
- scary....
- it pulled out some of her eyelashes. gross.
- the plaster o' paris is poured in.
- the finished result. creepy
- sally kisses herself.
- an earlier 'test run' which gave me nightmares...