Don't Be Influenced By Us!
by monkey finger
user profile | dashboard | imagewall | monkey finger maps
GO TO 10

a nice random image to get you started:




i now have a FLICKR page too!


"why would a reviewer make the point of saying someone's *not* a genius? do you especially think i'm *not* a genius? you didn't even have to think about it, did you?"







"monkeys are superior to men in this: when a monkey looks into a mirror, he sees a monkey."








"i am secretly afraid of animals.... i think it is because of the usness in their eyes, with the underlying not-usness which belies it, and is so tragic a reminder of the lost age when we human beings branched off and left them: left them to eternal inarticulateness and slavery. why? their eyes seem to ask us."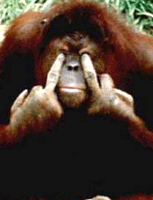 "we've all heard that a million monkeys banging on a million typewriters will eventually reproduce the entire works of shakespeare. thanks to the internet, we now know this is not true..."








african monkey proverb: "the day the monkey is destined to die, all the trees get slippery."








"i'll buy a bunch of monkeys, dress them up, and make them re-enact the civil war"







_


i told a funny joke once...
Search this moblog
Recent visitors
Friends
More...
rss feed
i think its because i sat on it.

and bloody trueprint screwed up the scans, but i kinda like that though
posting a present to bmal!
my friend ellen's just got back from switzerland and brought me a little 'kuh'
fireworks at the bristol harbour festival
the full moon and the eclipse are having a refit. these were outside...
made these back in my uni days
see the mattress. gaze in awe at its turquoiseness. mattresses like this don't happen by accident you know. Men died during its creation. we may never see it in the flesh, but we can consider ourselves lucky to have been born in its time.
here are some things i found on the floor in las vegas

i was in a funny mood that month