Don't Be Influenced By Us!
by monkey finger
user profile | dashboard | imagewall | monkey finger maps
GO TO 10

a nice random image to get you started:




i now have a FLICKR page too!


"why would a reviewer make the point of saying someone's *not* a genius? do you especially think i'm *not* a genius? you didn't even have to think about it, did you?"







"monkeys are superior to men in this: when a monkey looks into a mirror, he sees a monkey."








"i am secretly afraid of animals.... i think it is because of the usness in their eyes, with the underlying not-usness which belies it, and is so tragic a reminder of the lost age when we human beings branched off and left them: left them to eternal inarticulateness and slavery. why? their eyes seem to ask us."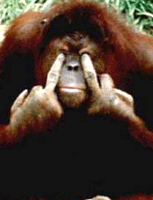 "we've all heard that a million monkeys banging on a million typewriters will eventually reproduce the entire works of shakespeare. thanks to the internet, we now know this is not true..."








african monkey proverb: "the day the monkey is destined to die, all the trees get slippery."








"i'll buy a bunch of monkeys, dress them up, and make them re-enact the civil war"







_


i told a funny joke once...
Search this moblog
Recent visitors
Friends
More...
rss feed
here are some pics that i'm posting purely because i'm bored here at work...

- a bench in the highbury vaults

- some foliage

- late night drunken photo taking
- my new car...

- more plants and 'art'

- you've got to have a dream....

- cycled all the way down the path, only to discover this sign. whoopsy

- one of my favourite pubs in the whole of bristol - the duke of york in st werburghs

- even cities have their moments of tranquility
- i'm off! and please note the sandal wearing....

- some plants and 'art'

- pretty leaves

- my tyre has disappeared!

- i call him oinky macsnoozerson

- he might be dreaming about this...

- st werburghs. a lovley area

- a fox? and a badger? nature's real enemies get on at last!

- get out of the way, ya blue bastard! (or something...)

- which is it?
- decided to take the dog for a walk to chew valley lake

- had a tasty picnic!

- this swan was looking at me funny all day...

- my friend caroline

- joel has a breast-type problem

- dan shows me whos boss

- a caterpillar took a liking to my belt - i think he fancied it

- feeding duckies with left-over bread!

- ah! there are my sunglasses!
- was early for my friends birthday party (gentlemanly discretion prevents
me from saying that they were late...)

- but at &pound1.90; for a tasty pint, i can afford to wait! (it was because of
this particular tasty cheap beer that i forgot to take any more pictures
that night. whoops)

- saturday morning, and hangovers suck ass

- went to a cafe and did the guardian crossword - with the best pen ever!

- came home, contemplated tidying the garden, went and got beer instead...

- didn't go in, but wondered if it cost more to go in the rear
there must be some sort of support group for amazon addicts...
- bleached cone

- private what?

- graf!

- i want this van

- dead sign

- i love garage doors

- see?

- tape...
5th Sep 2006, 14:51 |
tags:#cone,#garage door,#garage doors,#leaves,#lunchtime,#signs,#tape,#van,#walk,#wall
comments (23)
more pics from las vegas - this time i left the rubbish on the ground