Don't Be Influenced By Us!
by monkey finger
user profile | dashboard | imagewall | monkey finger maps
GO TO 10

a nice random image to get you started:




i now have a FLICKR page too!


"why would a reviewer make the point of saying someone's *not* a genius? do you especially think i'm *not* a genius? you didn't even have to think about it, did you?"







"monkeys are superior to men in this: when a monkey looks into a mirror, he sees a monkey."








"i am secretly afraid of animals.... i think it is because of the usness in their eyes, with the underlying not-usness which belies it, and is so tragic a reminder of the lost age when we human beings branched off and left them: left them to eternal inarticulateness and slavery. why? their eyes seem to ask us."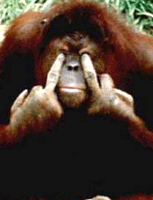 "we've all heard that a million monkeys banging on a million typewriters will eventually reproduce the entire works of shakespeare. thanks to the internet, we now know this is not true..."








african monkey proverb: "the day the monkey is destined to die, all the trees get slippery."








"i'll buy a bunch of monkeys, dress them up, and make them re-enact the civil war"







_


i told a funny joke once...
Search this moblog
Recent visitors
Friends
More...
rss feed
here's how the conversation went:

"wanna go to the pub after work?"
"can't really afford it..."
"go on"
"ok, just for one..."

five hours later, and the games have taken over our minds, we've eaten our body weight in pig snacks and ensured the cider makers of britain have a comfortable christmas.

hmmmm

EDIT: we later discovered that the dog's name is morris...

- see joe, i wasn't kidding!
22nd Sep 2006, 15:28
comments (18)
he's a bear that just don't care....

god, i'm bored
autumn's really coming! yay!
- cider and crisps. what more could you want?

cheese and onion for me, salt and vinegar for the lady...
- a bleeding wall

- mmm, classy

- this door was mini - the post slot is about 4 feet from the ground.

- the longest skid i ever done....

- this reminded me of 'where the wild things are'

- some nice wires...
another ride around last night:

- i remembered this wall, and went to photo it in honour of yesterdays
piratey flavour, and ended up staying out for an hour, taking all of the
rest of these piccies!

- a tree

- a well-worn rabbit

- some little gargoyle thing above a garage door

- sun lounger

- new graf next to the old 'pull to escape' one....
-mainly because you can't see the writing on his hat when he's so small...