Don't Be Influenced By Us!
by monkey finger
user profile | dashboard | imagewall | monkey finger maps
GO TO 10

a nice random image to get you started:




i now have a FLICKR page too!


"why would a reviewer make the point of saying someone's *not* a genius? do you especially think i'm *not* a genius? you didn't even have to think about it, did you?"







"monkeys are superior to men in this: when a monkey looks into a mirror, he sees a monkey."








"i am secretly afraid of animals.... i think it is because of the usness in their eyes, with the underlying not-usness which belies it, and is so tragic a reminder of the lost age when we human beings branched off and left them: left them to eternal inarticulateness and slavery. why? their eyes seem to ask us."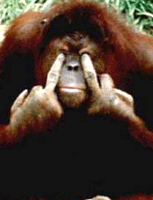 "we've all heard that a million monkeys banging on a million typewriters will eventually reproduce the entire works of shakespeare. thanks to the internet, we now know this is not true..."








african monkey proverb: "the day the monkey is destined to die, all the trees get slippery."








"i'll buy a bunch of monkeys, dress them up, and make them re-enact the civil war"







_


i told a funny joke once...
Search this moblog
Recent visitors
Friends
More...
rss feed
- saturday night was isla's birthday! happy birthday!

- the toilets in the pub had comics on the wall, which was most
chucklesome.

- apparently, tom was playing with my phone...

- then all back to isla's house for a party!

- where johnny depp was on the toilet wall, which was most disconcerting...

- then james and i got made up by the girls. it seemed like a good idea at
the time.

- after 3 hours sleep, discovering that you forgot to take your make-up off
is no fun...

- the newest graf on my street...
- friday night, and its time for jazz! keith little's hot six made sure that me, tom and ellen got our dance on...

- then off to another pub. it is a testement to my drunkeness that i thought
that this photo was sharp on my phone...

- saturday lunchtime, and its time for japes! first a little trip to fopp

- then we wanted to go to the top of cabot tower, but it was shut!

- so tom tried to climb it....

- his name is alfred....

- i call this one terry....
- the virgin egg

- the chocolate wonder

- the final barrier....

- the bits.

- WTF? a hexagonal-football playing fox? only in kinderland

- the besy bit about kinder eggs is the foil.
- the offender - note how close he has come to unscrewing himself.

- the tool to do the job!

- he's off!

- the new stirrups

- fully pedalled up! w00t!
- all taken on my way home from work last night....
does this make any sense at all...
- put the rug god on for a wash....

- met a mentalist pigeon
- i bought this comic book for 50p, and its the greatest

- this is the opening page. hilarious...

- old school door, i wonder whats inside...

- proper nice graf.

- beautiful mural on the outside of herberts bakery. pretty...