Don't Be Influenced By Us!
by monkey finger
user profile | dashboard | imagewall | monkey finger maps
GO TO 10

a nice random image to get you started:




i now have a FLICKR page too!


"why would a reviewer make the point of saying someone's *not* a genius? do you especially think i'm *not* a genius? you didn't even have to think about it, did you?"







"monkeys are superior to men in this: when a monkey looks into a mirror, he sees a monkey."








"i am secretly afraid of animals.... i think it is because of the usness in their eyes, with the underlying not-usness which belies it, and is so tragic a reminder of the lost age when we human beings branched off and left them: left them to eternal inarticulateness and slavery. why? their eyes seem to ask us."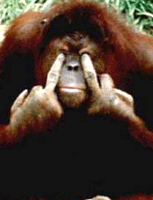 "we've all heard that a million monkeys banging on a million typewriters will eventually reproduce the entire works of shakespeare. thanks to the internet, we now know this is not true..."








african monkey proverb: "the day the monkey is destined to die, all the trees get slippery."








"i'll buy a bunch of monkeys, dress them up, and make them re-enact the civil war"







_


i told a funny joke once...
Search this moblog
Recent visitors
Friends
More...
rss feed

just a few more.last ones, i promise...
from my weekend:

- for all you chucks lovers out there - sparkly ones!

- beer with tom. mmmm
and again:

- my favourite action sample picture. the real print is much better -
because this is from a contact sheet its a bit dark.

- las vegas' darker side...

- my friend eva, of whom there is not one bad photo.

- from a road trip, ages ago

- garage doors again. god i love 'em
more close-up loupe fun - these are from contact sheets:

- my friend lorna. she will kill me for posting this, but i happen to think she has a certain grace in this picture. its all in the fingers.

- its a plane, innit

- too true. from new york

- 'punk action shotgun', from a legendary uni party.

- the omnipresent beezer.
on sunday, i found my old loupe, which i have put to good use as a
improvised macro lens for my phone - here are some frames from
this
comic,
just as a test.
- i'll take the prize money now, please...
last night i went to a friends house to play poker. FOR REAL MONEY!

- this is the mother of all chip sets, apparently.

- these glasses were considered very 'poker'

- and again

- and again...

- i asked ben to make a silly face, and this was the best he could do.

- after about three rounds, we gave up, and all took our cash back. which
was a shame, because i was winning - thats my stash on the bottom right of the table...
- on the way home from the cinema last night. it was dark an' that.