Don't Be Influenced By Us!
by monkey finger
user profile | dashboard | imagewall | monkey finger maps
GO TO 10

a nice random image to get you started:




i now have a FLICKR page too!


"why would a reviewer make the point of saying someone's *not* a genius? do you especially think i'm *not* a genius? you didn't even have to think about it, did you?"







"monkeys are superior to men in this: when a monkey looks into a mirror, he sees a monkey."








"i am secretly afraid of animals.... i think it is because of the usness in their eyes, with the underlying not-usness which belies it, and is so tragic a reminder of the lost age when we human beings branched off and left them: left them to eternal inarticulateness and slavery. why? their eyes seem to ask us."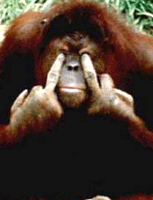 "we've all heard that a million monkeys banging on a million typewriters will eventually reproduce the entire works of shakespeare. thanks to the internet, we now know this is not true..."








african monkey proverb: "the day the monkey is destined to die, all the trees get slippery."








"i'll buy a bunch of monkeys, dress them up, and make them re-enact the civil war"







_


i told a funny joke once...
Search this moblog
Recent visitors
Friends
More...
rss feed
industry and nature, combining to confirm that autumn has hit bristol.
tinker has a posse, and don't you forget it.

plus four little squares.
please meet pippin and boris, ellen and trent's room-mates.
my new mug!

but it came in this massive box! ridiculous i tells ye!
we went and drunkened! the first two are my friends, so to protect the
innocent, i will give them coded names. so say hello to narf and neb.

the third shot is of a place called the severn-shed, which was well poncy,
and made me feel like an interloper in my torn jeans and chucks. they did, however, sell drinks that would kill a horse.
drinks in the pub with ellen. again!
in
this pub
went to see this film last night. this is actually the second time i've been
to see it; thanks to word of (my) mouth, lots of my friends want to see it.
i thought it was brilliant, even the second time round. my only complaint
was that it looked like julianne moore was sleepwalking through it. thank
god she's not in it for long....