Don't Be Influenced By Us!
by monkey finger
user profile | dashboard | imagewall | monkey finger maps
GO TO 10

a nice random image to get you started:




i now have a FLICKR page too!


"why would a reviewer make the point of saying someone's *not* a genius? do you especially think i'm *not* a genius? you didn't even have to think about it, did you?"







"monkeys are superior to men in this: when a monkey looks into a mirror, he sees a monkey."








"i am secretly afraid of animals.... i think it is because of the usness in their eyes, with the underlying not-usness which belies it, and is so tragic a reminder of the lost age when we human beings branched off and left them: left them to eternal inarticulateness and slavery. why? their eyes seem to ask us."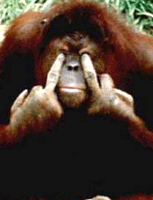 "we've all heard that a million monkeys banging on a million typewriters will eventually reproduce the entire works of shakespeare. thanks to the internet, we now know this is not true..."








african monkey proverb: "the day the monkey is destined to die, all the trees get slippery."








"i'll buy a bunch of monkeys, dress them up, and make them re-enact the civil war"







_


i told a funny joke once...
Search this moblog
Recent visitors
Friends
More...
rss feed
hmmm. maybe lord of the flies affected me more than i thought.
ok, so i've read the book many times, but this was the first time i've seen
the film, and it freaked me out, big-style.
so a gang of us went to 'the apple' last night. its a new cider bar in
brizzle, and it rocks. hard.

- the menu. mmm

- sometimes, halfs are the best way

- jo is on the receiving end of tom's patented eye attack. he invented this.

- some hugs.

- more hug action

i have lost my tattooed bear
but i can't work out what.

it has those nasty orange lights burning pretty much 24 hours a day, and
smells like a swimming pool.

it is also attached to the hospital...
another pleading glove....