Don't Be Influenced By Us!
by monkey finger
user profile | dashboard | imagewall | monkey finger maps
GO TO 10

a nice random image to get you started:




i now have a FLICKR page too!


"why would a reviewer make the point of saying someone's *not* a genius? do you especially think i'm *not* a genius? you didn't even have to think about it, did you?"







"monkeys are superior to men in this: when a monkey looks into a mirror, he sees a monkey."








"i am secretly afraid of animals.... i think it is because of the usness in their eyes, with the underlying not-usness which belies it, and is so tragic a reminder of the lost age when we human beings branched off and left them: left them to eternal inarticulateness and slavery. why? their eyes seem to ask us."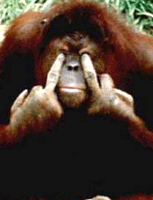 "we've all heard that a million monkeys banging on a million typewriters will eventually reproduce the entire works of shakespeare. thanks to the internet, we now know this is not true..."








african monkey proverb: "the day the monkey is destined to die, all the trees get slippery."








"i'll buy a bunch of monkeys, dress them up, and make them re-enact the civil war"







_


i told a funny joke once...
Search this moblog
Recent visitors
Friends
More...
rss feed
we went to a bar called the prom to see some music. which was ok
but the fliers for the bar had really cool covers on them, so i'll blog them instead...

we also went to see 'the devil wears prada' ~(cue shooting self in head
with finger-pistol)

.....but i like it.

just discovered on my phone, and judging from the date on it, it was taken
when dad was over....


hotdog, here it is...looks pretty good :)

we went for a walk in the rain, and this is what we saw...

holy shit, it was good. old bristolian rules.

the third shot is the picture that has put me off pork scratchings for
life....
i went to the old duke last night with my dad, who some of you will know as
mr P, and we watched some excellent music by a band called sheelanagig.

then, because mr P was pissed, we went to his hotel and had another beer in the creepy bar, with a white piano
its ellen and me!

hair and makeup by pillow @ bed
drawings by ellen
pouts: models own