Don't Be Influenced By Us!
by monkey finger
user profile | dashboard | imagewall | monkey finger maps
GO TO 10

a nice random image to get you started:




i now have a FLICKR page too!


"why would a reviewer make the point of saying someone's *not* a genius? do you especially think i'm *not* a genius? you didn't even have to think about it, did you?"







"monkeys are superior to men in this: when a monkey looks into a mirror, he sees a monkey."








"i am secretly afraid of animals.... i think it is because of the usness in their eyes, with the underlying not-usness which belies it, and is so tragic a reminder of the lost age when we human beings branched off and left them: left them to eternal inarticulateness and slavery. why? their eyes seem to ask us."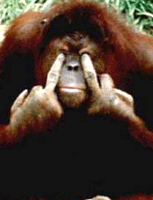 "we've all heard that a million monkeys banging on a million typewriters will eventually reproduce the entire works of shakespeare. thanks to the internet, we now know this is not true..."








african monkey proverb: "the day the monkey is destined to die, all the trees get slippery."








"i'll buy a bunch of monkeys, dress them up, and make them re-enact the civil war"







_


i told a funny joke once...
Search this moblog
Recent visitors
Friends
More...
rss feed
walking home last night after work. lots of spooky lights and shadows

- before....

- ...and after.

easy isn't it?
stumbled across a party down the road from me, and it turned out all my
friends were there! what are the chances?

- the music-making-rotational-platform device

- a girl whose name i think might be theresa

- the music-tablet-rider

- some girls. tamsin and aurora, the two facing us, had just been thrown out of another party for having a bath.
friday night is jazz night! me and tom go to keith little's hot six every
fortnight, and on friday they came up to us at the end and thanked us for
coming and making everyone dance! we were a little bit chuffed


this is a pic of me and bmal as little kiddy-winks, torturing our cat...

here is a selection of my found photo collection.

some i bought, some i found myself, and a couple were given to me.

i love 'em.
we went to a bar called the prom to see some music. which was ok
but the fliers for the bar had really cool covers on them, so i'll blog them instead...

we also went to see 'the devil wears prada' ~(cue shooting self in head
with finger-pistol)

.....but i like it.

just discovered on my phone, and judging from the date on it, it was taken
when dad was over....