Don't Be Influenced By Us!
by monkey finger
user profile | dashboard | imagewall | monkey finger maps
GO TO 10

a nice random image to get you started:




i now have a FLICKR page too!


"why would a reviewer make the point of saying someone's *not* a genius? do you especially think i'm *not* a genius? you didn't even have to think about it, did you?"







"monkeys are superior to men in this: when a monkey looks into a mirror, he sees a monkey."








"i am secretly afraid of animals.... i think it is because of the usness in their eyes, with the underlying not-usness which belies it, and is so tragic a reminder of the lost age when we human beings branched off and left them: left them to eternal inarticulateness and slavery. why? their eyes seem to ask us."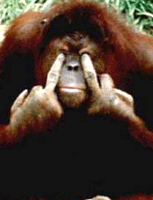 "we've all heard that a million monkeys banging on a million typewriters will eventually reproduce the entire works of shakespeare. thanks to the internet, we now know this is not true..."








african monkey proverb: "the day the monkey is destined to die, all the trees get slippery."








"i'll buy a bunch of monkeys, dress them up, and make them re-enact the civil war"







_


i told a funny joke once...
Search this moblog
Recent visitors
Friends
More...
rss feed
went to see some music on friday night, which was most enjoyable....

- first band called 'strike-eye'

- second band called 'get out'

- harry potter, dan and ben sing along to get out...
more pictures from
wilsons birthday
last week, courtesy of ben's k800i
- bristols only nudist place? cashpoint? where does one keep ones wallet?
- in the pub. my hair is apparently insane.
- ellen throwing some shapes in the house of jazz
- we're in a gang, you know...
ok. up till 4 last night playing chess. bum
i was there for an exhibition by my very good friend
jenny hardy
i played four games, lost the first in four moves to jenny, won the second
against jenny, then won two against caroline. i rule.
- jo's birthday at yia mass last night.

- then on to a place called goldbrick house, which was s.w.a.n.k.y.
on saturday, ellen and i volunteered to paint the two meeting rooms in our
office. we are twats.

- room number one being prepared.

- one of the tools of the trade

- ellen getting down to work

- lunch. yuk.

- room number two ready for action

- of course, we were entirely professional, and didn't fuck around at all :)
happy birthday wilson!

- he was 24 on sunday, we went out friday, and had much dancing in
ramshackle.

- i gave ellen a beautiful tattoo. she loved it.

- a hangover picture, which turned out quite nice actually.
it was bloody cold on wednesday :(