Don't Be Influenced By Us!
by monkey finger
user profile | dashboard | imagewall | monkey finger maps
GO TO 10

a nice random image to get you started:




i now have a FLICKR page too!


"why would a reviewer make the point of saying someone's *not* a genius? do you especially think i'm *not* a genius? you didn't even have to think about it, did you?"







"monkeys are superior to men in this: when a monkey looks into a mirror, he sees a monkey."








"i am secretly afraid of animals.... i think it is because of the usness in their eyes, with the underlying not-usness which belies it, and is so tragic a reminder of the lost age when we human beings branched off and left them: left them to eternal inarticulateness and slavery. why? their eyes seem to ask us."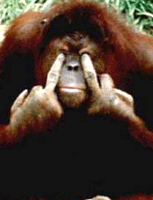 "we've all heard that a million monkeys banging on a million typewriters will eventually reproduce the entire works of shakespeare. thanks to the internet, we now know this is not true..."








african monkey proverb: "the day the monkey is destined to die, all the trees get slippery."








"i'll buy a bunch of monkeys, dress them up, and make them re-enact the civil war"







_


i told a funny joke once...
Search this moblog
Recent visitors
Friends
More...
rss feed

taken at the reception after the wedding. i was again quite impressed with
my little telephone.

this weekend, i went down to paignton in devon to photograph my friend
becky's wedding. i was the only photographer, and i was bricking it.

i was using a borrowed camera, and i didn't know anyone there apart from one friend from school and the bride, who was busy, obviously.

i will be blogging some pictures fairly soon, once they're off the camera,
but for now you can get by with this picture of my b+b room. please note
ellen-monkey (as i have now dubbed her) sitting on the window sill.

the second picture was taken as i was wandering the streets of paignton at 4 in the morning stressed out of my tree the night before the big day. it made me chuckle enough to allow me to finally get some sleep.
ellen gave me a monkey before she went away. here she is doing some
acrobatics....
went to see a special uber-exclusive-only-for-those-in-the-know-illuminati-style screening of babel last night.

hotly tipped for oscars, i don't think it'll win anything. its that good.
seeing shoes like this always reminds me of new york for some reason. i have
no rational explanation as to why...

i know its not one on its own, but i like the arrangement they made.

on their own, i might add.
mysocalledmoblog
sent me a cd! it arrived yesterday!
lovely music, and i munched the sweeties after dinner : )

for no other reason than because.......