Don't Be Influenced By Us!
by monkey finger
user profile | dashboard | imagewall | monkey finger maps
GO TO 10

a nice random image to get you started:




i now have a FLICKR page too!


"why would a reviewer make the point of saying someone's *not* a genius? do you especially think i'm *not* a genius? you didn't even have to think about it, did you?"







"monkeys are superior to men in this: when a monkey looks into a mirror, he sees a monkey."








"i am secretly afraid of animals.... i think it is because of the usness in their eyes, with the underlying not-usness which belies it, and is so tragic a reminder of the lost age when we human beings branched off and left them: left them to eternal inarticulateness and slavery. why? their eyes seem to ask us."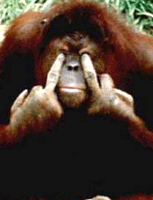 "we've all heard that a million monkeys banging on a million typewriters will eventually reproduce the entire works of shakespeare. thanks to the internet, we now know this is not true..."








african monkey proverb: "the day the monkey is destined to die, all the trees get slippery."








"i'll buy a bunch of monkeys, dress them up, and make them re-enact the civil war"







_


i told a funny joke once...
Search this moblog
Recent visitors
Friends
More...
rss feed
...waiting for lizzie again
i'm sure you've seen this, but LOOK!
my shitting office has banned moblog! don't they know what they've
done?!?!?!?!?

4th Jan 2007, 12:01
comments (24)
some flyers on my wall from my trip to the grande pomme many years
ago.i love 'em - so many good memories.

a winter walk en famille, just after christmas...

ellen sent me this a few days back. i don't know where it was taken (could
be melbourne, could be new york) but i love it.

new years eve pictures! blogging, i'm afraid, wasn't a priority. these will
have to do. - ness and benos taylorian. aaah, young love. - some music-making people. god knows what they were called. they were
rubbish. the band after them were excellent, but were playing on an almost
pitch black stage, so no photikins. - first picture of 2007, taken at 12.11am. nice.