Don't Be Influenced By Us!
by monkey finger
user profile | dashboard | imagewall | monkey finger maps
GO TO 10

a nice random image to get you started:




i now have a FLICKR page too!


"why would a reviewer make the point of saying someone's *not* a genius? do you especially think i'm *not* a genius? you didn't even have to think about it, did you?"







"monkeys are superior to men in this: when a monkey looks into a mirror, he sees a monkey."








"i am secretly afraid of animals.... i think it is because of the usness in their eyes, with the underlying not-usness which belies it, and is so tragic a reminder of the lost age when we human beings branched off and left them: left them to eternal inarticulateness and slavery. why? their eyes seem to ask us."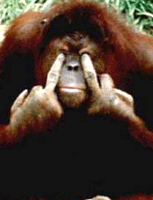 "we've all heard that a million monkeys banging on a million typewriters will eventually reproduce the entire works of shakespeare. thanks to the internet, we now know this is not true..."








african monkey proverb: "the day the monkey is destined to die, all the trees get slippery."








"i'll buy a bunch of monkeys, dress them up, and make them re-enact the civil war"







_


i told a funny joke once...
Search this moblog
Recent visitors
Friends
More...
rss feed

was treated last night to a excellent evening of music by biffy clyro, most
excellent. they were supported by a couple of pretty terrible bands,
but i really enjoyed 'the bronx' who were all dressed like chav townies, but
ended up being actually rather good. anyway, here are some of my
back-of-the-crowd pictures thanks kelly!!!!!!

themed lunchtime walk results in bumper haul of photos! woo hoo!

i love the irony of a glass merchant with a broken window :D
went out drigaligalinking last night. oh dear.- the final round of
drinks. between four of us- it looks like he's saying
'ooooooh'- for mysocalledmoblog - they're advertising it! yay!

i cut my thumb last night, right on the join. it will not stop
bleeding. here is a picture of the blood, and a selection of the
shards that the glass broke into. have you ever seen such vicious looking
glass? me neither.the last picture is of the blood on the tea-towel.
i like it : )

these two characters were tied to the roof of a van. i think the lion looks
particularly dashing with his windswept mane and blue eye-linera
bugger to photograph though - i was on tippytoes :)

the buildings that the dirty builders are building. its going to be our new
shopping centre. i think this is the bit that mr p is involved with.

all the builders around my office have made a lovely mess on the ground.
dusty boots, dusty boots.